Who We Are
Laurence M. Sobin, CLU®, ChFC®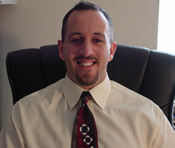 I graduated from Stockton State College in May of 1989 with a BA in Marketing. I started in the financial business in July of 1989. After 13 years of learning all of the different areas of this business within an Agency System, I decided I could better help my clients by opening my own firm where I could offer them a more competitive product base. I can get contracted with almost any insurance company necessary to satisfy any of my clients needs, which is why I started Sobin Financial Group in March of 2002. This advantage gives me the capability to consult with my client, and then go out and find the most appropriate product, investment managers, etc., for each client's specific and original situation.
I acquired my Chartered Life Underwriter™ designation (CLU®) on November 1st, 2002. On February 1, 2008, I received my Chartered Financial Consultant™ designation (ChFC®). Both of these designations are issued through The American College in Bryn Mawr, Pennsylvania and are Post-Graduate designations within the financial industry.
My goal has always been to educate and position myself so I can help as many people as possible. When it's all said and done, that's the thing that matters the most to me---PEOPLE!!
To find out more about each of my designations, please click on the links below: